How to make Massage Oil at Home I DIY recipes
Body massage is an age-old tradition of India, although it has become very commercial and high end now, there are still ways to have that luxurious feel at home. If you are someone who loves massages and the smell of different oils calms you, then this blog is a sign for you to pamper yourself and start your massages at home. Not all of us have the luxury of time to spend hours, or money at a fancy Massage place, but that doesn't mean we should be deprived of the relaxing time and experience. This blog will help you find the perfect massage oil combination for different requirements, so you can use them for massages at home.
Massages are not only about relaxing or pain relief, it also helps in healing of your body and with the right oils it can provide mental relief as well. A good massage oil will not only untangle the knots, muscles and tissues in your body but also remove away any stress. It helps glide your hands smoothly and easily over skin without causing any irritation or rash.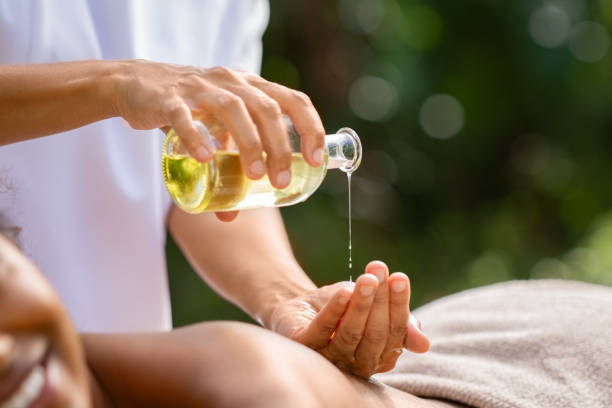 Here are some of the Best Massage oils:
Sweet Almond oil for Nourished skin
Sweet Almond oil is a highly nourishing oil with mild and sweet aroma. It is a light oil which gets absorbed in skin quickly without leaving any greasy residue. It is known for moisturising skin and brightens it. It is a mild oil which is suitable for all skin types and can be used for baby massages as well. Sweet Almond oil has anti-inflammatory properties and gives relief from itching and rashes. It protects skin from damage caused by ultraviolet rays and prevents sun tanning. It is an excellent oil for relaxing muscles and has mild pain-relieving properties.
Coconut Oil for Youthful Glow
Do you worry about premature aging? Don't worry, we have got you covered! Coconut oil is a natural multi tasker oil and has many benefits. It is used in many beauty products due to its antibacterial and antifungal properties. It is an excellent moisturiser and has high content of fatty acids and Vitamin E. This genius oil boosts collagen production which keeps your skin looking youthful. The oil penetrates deep into the skin, giving it a healthy glow.
Castor Oil for Pain relief
Presence of Anti-inflammatory properties in Castor oil makes it an ideal oil for relieving joint pain, nerve inflammation and sore muscles. It can help reduce swelling, pain and itchiness. These healing properties make castor oil a perfect natural remedy for joint and muscle pains like arthritis, or skin irritating conditions that cause pain and discomfort.
Sesame Oil for Repairing Skin
Sesame oil has high content of Vitamin A & E, which helps repair damaged skin tissues. It helps enhance skin's elasticity while producing collagen, giving this oil a burst of anti-aging benefits.  The anti-inflammatory properties of this oil helps reduce swelling, redness and inflammation giving immediate relief to skin. It also improves circulation and rejuvenation thus promoting quick recovery. Presence of minerals like zinc, copper, calcium, magnesium, and manganese help repair scar tissues and regenetrates new skin cells.
Olive oil for Muscle Spasms and Swelling
Olive oil is an ideal oil for light massage. It gets absorbed in skin at an average rate and provides much needed nourishment to skin. It is a perfect oil for relaxing muscles and locking moisture in skin. It helps increase blood circulation, eases aches, relaxes muscles. Regular application of this oil can also protect skin from oxidative stress.
Sunflower oil for Softening Skin
Sunflower oil contains high amounts of  linoleic and oleic acids which help enhance the texture of the skin. It helps clear toxins from body and keeps it moisturised. It is also known to improve barrier function of skin and retains moisture thereby making skin soft and supple. It also contains high levels of Vitamin E, which helps with premature aging and wrinkles.
Jojoba oil for Baby soft skin
Jojoba oil is a natural humectant, thus keeps skin hydrated and moisturised. It contains Vitamin E, natural antioxidant which helps skin fight oxidative stress caused by exposure to pollutants and toxins. It is a non greasy oil and quickly absorbs into skin. Jojoba oil is very similar to the sebum produced by our skin and is the most preferred massage oil. It is an extremely mild oil and can be used for babies as well.
Neem oil for Dry, Acne Prone Skin
Neem oil has anti-bacterial, anti-fungal and anti-inflammatory properties which are all perfect to combat acne. It also helps in dealing with hyperpigmentation due to the presence of Vitamin E which helps restore damaged skin cells. If you are suffering from acne on body, applying neem oil diluted in almond or olive oil will help get rid of them. You can also do spot treatment on acne by adding few drops of neem oil on cotton and lightly dabbing on acne.
Lets see some DIY Massage oil recipes which you can easily make and enjoy a luxurious spa day at the comfort of your home.
Basic DIY Recipe
The basic recipe to create any kind of massage oil is a mix of Carrier oil and Essential oil.
There are some recipes that we recommend for common problems we all face like body ache, sore shoulders, headache, dull face, etc. Here are some of our recipes that will save you from creating a mess.
Goodbye Sore muscles
Use this blend when you have sore muscles after a heavy workout or prolonged hours at using your laptop or simply because winter is being harsh on your muscle. It will help to sooth down the aching of joints and also release inflammation from the applied area.
Why does it work?
This recipe has one of the oldest remedies of Ayurveda for Muscle aches and body pain, i.e., Ashwagandha Essential oil. It has been used since decades to treat body pain because of the warmth and heat it can provide. It is a natural antispasmodic agent, which has been mentioned in ancient books many times. Another hero of this blend is Lavender Essential oil, which is world-famous for relaxation and providing comfort. It can also help in releasing those tensive muscle knots you may have in your shoulders and joints. And lastly, the channel to use these benefits; Olive oil is excellent in promoting blood circulation which leads to reduced pain and stiffness.
Head massage
Why does it work?
This blend comes in handy after a hectic week or for curing general headaches. Peppermint Essential oil has the active ingredient called, Menthol. Which helps in lessening the intensity of headaches and migraine attacks as well. It lowers stress levels and the pleasant aroma can help with nausea as well. Rosemary Essential oil is already famous for its hair benefits, it can reduce hair fall and promote growth of long hair. It also promotes blood circulation in the scalp that helps in tightening scalp, as well as reducing headache. Sweet Almond Oil is will make your hair soft and supple and take away the harshness of these essential oils. 
Face massage for Acne Prevention
Why does it work?
Tea tree oil is filled with antimicrobial and antibacterial properties that helps in reducing acne and pimples. It combats with the acne causing bacteria and reduces appearance of scars and marks. Whereas, Lavender Essential oil has loads of calming and soothing compounds. It relaxes inflammation on skin caused by acne and also helps in lightening of marks. Lavender oil takes the edge away from Tea tree oil and treats flaky and irritated skin. And these two channels to the body through Neem Oil, which is again an antibacterial oil. And in addition, it also has age rewinding qualities, it can promote the growth of Collagen in skin and improve skin elasticity.
Takeaway
A Good massage can provide your body with just what it wants. There are so many oils each with its unique properties which can be combined to make a massage oil. All you need is to identify which works best for you. This article will help you decide which oil is best for you but if you are still confused don't worry you can use any oil you like as these are mild and do not cause any side effects.
Commonly asked FAQ's
Can I use Massage oil directly on skin?
Yes, Massage oil can be applied directly on body. They are mild and therefore do not cause any irritation on skin.
I do not like the aroma of the oil. What can I do?
You can add few drops of Essential oils like Lavender Oil which will not only give nice aroma but also add therapeutic benefits. You can use 1-2% dilution of essential oils in massage oil.
Will Massage oil stain sheets?
If you are not careful, some oils can leave yellowish stain on bedsheets. It is always advidable laying down on a towel or washable sheet.
Will Massage oil cause breakouts?
No, if you are using non-comedogenic carrier oils like jojoba, almond. These may even help clear out acne by dissolving dirt and oil in pores and rinsing away impurities.
When will massage oil expire?
Massage oils stay good for 1-2 years. If there is rancid smell coming from the oil, it has gone bad.
Can I use these oil for babies?
Some oils are light which can be used for massaging babies. Please speak to your doctor before applying anything on babies skin as it is very sensitive.
You may also like:
---